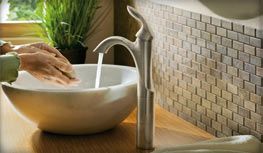 We have many different types of bathroom lavatories available at Milne Supply. Take a look at all the different styles of bathroom sinks below then visit our showroom and choose the bathroom lav that is right for you. We have pedestal and vessel lavs, self-rimming lavs, under counter and vanity tops and even wall hung lavs, in stock at Milne Supply in Munster, Indiana. Below are links to a few bathroom lavatory manufacturuers we offer at Milne Supply. We also have custom made vanity tops, vessel bowls of many different finishes and even hand crafted vessel bowls. The plumbing experts at Milne Supply are your source for finding the bathroom sink for you.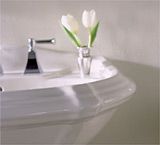 Milne Supply offers bathroom lavatories (sinks) of every style, finish and size.  Explore hand crafted marble vessel bowls or beautiful colored glass bathroom sinks.

Maybe you appreciate the more traditional porcelain bathroom lav.  We have round porcelain lavatories, oval porcelain lavs, rectangular and square bathroomsinks.  You have options of drop-in laavatories and undermount bathroom lavatories.
 
The plumbing supply experts at Milne Supply Co. will help you explore all the bathroom lavatory options available. Visit the Milne Supply showroom to see and feel every finish of bathroom sink on display.  Experience the luxury of marble vanity tops with built-in bowls, or distinguish your bathroom with a unique glass vessel bowl or handcrafted granite vessel bathroom lavatory.  Replacing a vanity top? Measure the depth and width as well as the thickness of your existing top then come in and explore the bathroom lavatory options for your sink replacement.